Race on tractors is a challenge thrown out of the ordinary. This is something that, in principle, can not be. After all, a tractor is not a racing car. In overcoming, struggling to the brink of opportunities, our participants and spectators find parallels with their daily life. We are in Russia, and we have a purely Russian sport. Nowhere else in the world is there such a thing!
Bizon-Track-Show is a unique event in which agricultural workers play an unusual role. They become brave racers and compete on tractors, which work every day.
Risky high-speed sections, dangerous turns, water obstacles, springboards ... Once a year and tractors fly! At the wheel of simple men - they are real, without hypocrisy. Emotions here are just off scale! The audience gathers tens of thousands - specially coming from all over the country and from abroad. It is no accident that the authoritative magazine which called "Around the World" has included our tractor races in the list of miracles that you need to see with your own eyes.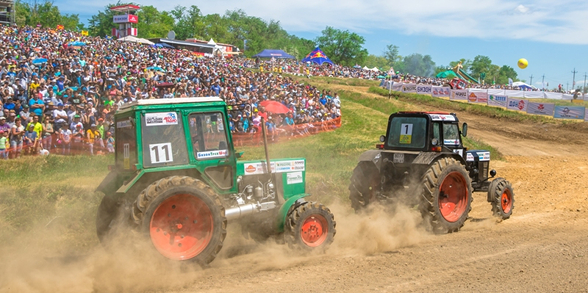 May 20, Rostov-on-Don will become the center of Russian tractor sport for the 16-th time already. Thirty riders expect a difficult 15-kilometer route and 8 stages of intense struggle. The field was yesterday and will be tomorrow. Today their elements are steep turns and unrestrained daring. Between the participants will unfold serious fights, spurred by sports excitement and adrenaline.
Heroes of the rally will glorify their farms. The best riders will be awarded new tractors and agricultural machinery. The main prizes for agrarians will be provided by the Government of the Rostov Region.
Bizon-Track-Show is held in the Rostov region since 2002. The aim of the competition is to popularize the mechanization profession, to return respect to rural labor, to attract young people to the agro-industrial complex. Over the past time more than 300 riders took part in the Bizon-Track-Show. The finalists were awarded 33 prize tractors and dozens of units of various equipment.
Participation in races on tractors and entrance for spectators are totally free.
Bizon-Track-Show will be held on the 20-th of May 2018 at 10-00, at 4-th km of the highway Rostov-Taganrog.