Even compared to another harvester with similar characteristics Fendt Ideal 9T showed high productivity and quality of straw and grain at low losses.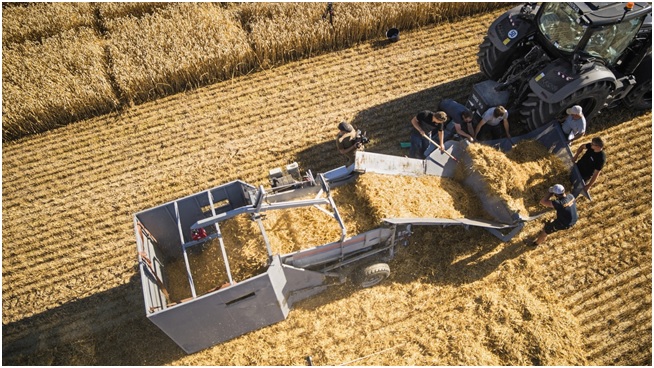 The tests were carried out in the summer of 2020 on a wheat field in the Mecklenburg region. Front Pomerania under leadership experts of German agricultural community (DLG), who have many years of experience research of the quality of threshing, and research workers of higher educational institutions.
The aimof the comparison was to obtain data on grain losses from combines that worked in the field with different productivity and speed from 4 to 8 km / h. When driving at maximum speed Fendt Ideal 9T combine performance amounted to 89 t / h, while the competitor's it was 87.7 t / h.
The amount of damaged kernels is one of the important factors determining the quality harvest. The percentage of damaged kernels on the Fendt Ideal was lower,
than a competitor - from 0.15 to 0.55%, while on another machine the values reached 0.85 - 1.5%. To measure this parameter, experts used "Sheet method": all the threshing waste discharged was placed on the sheet of material, and then cleaned up to identify and weigh losses. As an additional control was used "method of capacity" after each stage of checking the grain unloaded onto a weigh trolley, and, based on these data and known in advance speed of movement, productivity was determined.
In addition to low grain losses, the Fendt Ideal 9T demonstrated good harvesting performance straw. When harvesting at a speed of 8 km / h, 10% of the straws in the sample had a length more than 67 mm, and the length of another 17% of straws exceeded 30 mm. Compared to samples, obtained on another harvester, the number of long straws turned out to be 2.7 times more. The content of short straws (8 mm) was significantly higher than on combine Fendt Ideal.
- The combine met all our expectations during this check. But more importantly, he fully meets the expectations of customers who choose Fendt for its cutting-edge
technology and high performance, - commented on the test results Christoph Groblinghoff, chairman of the board of Directors of Fendt.